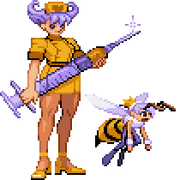 Q-Bee is a Nurse take care of kids.
Emily
Mordecai
Rigby
Benson
Skips
Pops
Margaret
Eileen
Bella
Elina
Loana
Benson KatAna
Ana
Benson (SonTimes)
Holly Marry
Elina (on Q-Bee vs Elina)
Marty
Pyron (on Q-Bee's Troubles.)
Theme Songs
Edit
Q-Bee's Theme (In Game only)
Sweety Bees
Major apparances
Edit
Minor apparances
Edit
Mentioned
Edit
Ad blocker interference detected!
Wikia is a free-to-use site that makes money from advertising. We have a modified experience for viewers using ad blockers

Wikia is not accessible if you've made further modifications. Remove the custom ad blocker rule(s) and the page will load as expected.