"Space-Time Police Sheriff Esteban!"
―Esteban's roll call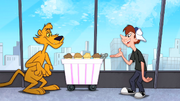 Sergio is the newest Space-Time Police Sheriff, friend of Kal Hyugu and Denby Igan and senior of Gash Jumon and Renzo Ichijo, Bowling has become hugely popular, and a Professional Bowling superstar.
Appearance
Edit
He has brown hair and wears blue and white hat, Space-Time Police's Gold Uniform and white shoes.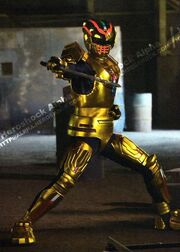 Transplate Process
Edit
Gold Samurai Sword
Gold Katana
Esteban Aggression
Edit
Sergio uses the Laser Blade to perform the Esteban Aggression attack, an electrically charged 45 degree angle energy slash.
He is also a professional bowling superstar, as bowling has become hugely popular.
Ad blocker interference detected!
Wikia is a free-to-use site that makes money from advertising. We have a modified experience for viewers using ad blockers

Wikia is not accessible if you've made further modifications. Remove the custom ad blocker rule(s) and the page will load as expected.