Terror Tales of the Park III
Comments

0
953pages on
this wiki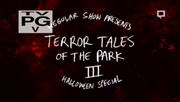 Terror Tales of the Park III is the third isntallment of the TTOTP series.
Klootoniar's Party
Edit
In 2085, Mordecai and Rigby must travel to Klootoniar for encounter the best cola ever: the Rock Cola.
The Bird in the Hat
Edit
Rigby and Muscle Man meets a magic bird with a hat when Mordecai goes to Las Vegas, the bird transforms the city in a magic land, but later, the bird can free your dark side.
Benson goes Crazy
Edit
Benson is pranked by everybody, but he goes crazy and want kill to everybody.
Deleted a tale: "Night of the Skinned Alives", Mordecai and Rigby must save the park from skineed alives. Replaced by a "The Bird in the Hat".