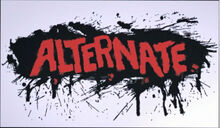 The Alternate is a villainous organization which it was founded by an unknown leader and it was revealed in Regular KC Undercover: The New Threat a crossover sequel of regular show and kc undercover, Regular KC Undercover. It is also revealed that they are going to destroy all the heroes of the park and the organization and all the villains of the rabbid empire and the other side. They first appeared in Regular KC Undercover: The Battle Continues. When their existence was discovered, The Organization classified them as a "renegade faction."
Ad blocker interference detected!
Wikia is a free-to-use site that makes money from advertising. We have a modified experience for viewers using ad blockers

Wikia is not accessible if you've made further modifications. Remove the custom ad blocker rule(s) and the page will load as expected.