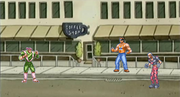 The Coffee Shop is the second-most main location in the show (the first being The Park). It is shown in "High Score" that there are arcade video games in the Coffee Shop. At first, Margaret was the only known worker. Later, the character Eileen was introduced in "Brain Eraser". Margaret mentions that the coffee shop's owner put in the arcade game machine called Broken Bonez in "High Score" and in that same episode, the first death in the coffee shop happened and that was Garrett Bobby Ferguson. In "House Rules", the owner is first seen. It has appearances in "High Score", a "A Bunch of Baby Ducks", "Peeps", "Muscle Woman", "Bet to Be Blonde", "Brain Eraser", "Do Me a Solid", TGI Tuesday and others. It also runs the Open Mic Night. 
Coffee
Salad
Doughnuts
Sandwiches
Ice Water
French Fries
Pie
Pasta
Ice Cream
Water
Coffee Frapp
Burgers
It was destroyed twice in the episodes "Muscle Woman" and "Yes Dude Yes". It was also covered with brain goo in "High Score".
Ad blocker interference detected!
Wikia is a free-to-use site that makes money from advertising. We have a modified experience for viewers using ad blockers

Wikia is not accessible if you've made further modifications. Remove the custom ad blocker rule(s) and the page will load as expected.