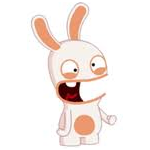 Thoose Rabbids Are 3 Years Old They Start There Invasion in flim not on episodes. They are curious, careless, and lunatic. They spend their time by causing hysterical madness with their own creative tastes that often gets them into hilarious situations. Most of the time in each episode, there are four Rabbids.
Regular show the fanon saga
Edit
They appeared in regular show the fanon saga as the main antagonists who tried to take over the park for months.
Ad blocker interference detected!
Wikia is a free-to-use site that makes money from advertising. We have a modified experience for viewers using ad blockers

Wikia is not accessible if you've made further modifications. Remove the custom ad blocker rule(s) and the page will load as expected.