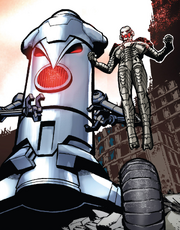 Ultron Maker was a separate A.I. developed by Rabbid Empire and Ultron. Ultron Maker's body was a processing plant which created the massive army of Ultron Sentinels. It will appeared in Sonic's Laff-A-Lympics the Movie: Riders of the Great and Grand Finale.
Powers and Abilities
Edit
Ultron Maker can mass produce multiple duplicates of Ultron Sentinels from within his body.
Ad blocker interference detected!
Wikia is a free-to-use site that makes money from advertising. We have a modified experience for viewers using ad blockers

Wikia is not accessible if you've made further modifications. Remove the custom ad blocker rule(s) and the page will load as expected.